Greenford Quay's outdoor cinema pulls in the crowds
Movie lovers in West London flocked to Greenford Quay's amphitheatre in Grenan Square this July for an action-packed programme of films. The free annual summer screenings featured two movies a day for five days – as chosen by the Greenford community.
More than 300 people voted in the poll to decide which blockbusters would grace the big screen at London rental apartment Greenford Quay's outdoor cinema on the banks of the Grand Union Canal. The line-up included a host of family favourites, from Moana and Toy Story to The Lion King and Shrek. While evening screenings featured modern classics such as Mrs Doubtfire, Pretty Woman and Dirty Dancing, and crowd-pleasers Pirates of the Caribbean and Harry Potter.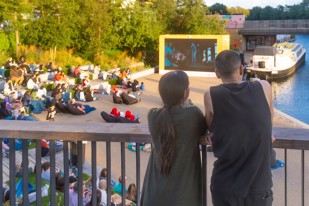 Free popcorn anyone?
The event gave families the perfect start to the school summer holidays, with more than 1,000 people braving London's unpredictable weather to relax and enjoy a film in the open air. Greenford residents of all ages brought picnics, friends and pets to take advantage of the free popcorn and sweets provided by Greenford Quay's friendly onsite team.
Safaa Abdel-Gawad said she loved the event: "Me and my little girl had an amazing time, even the rain didn't sway us. The area was lovely, staff were outstanding and the facilities superb. Everything far exceeded our expectations, and I would definitely go again. Greenford Quay also caught my interest as I had never been before."
After the screenings, children could then wake up their bodies with interactive after-show play activities provided by Plassroom.
Sabah Shabir said it was a great day out: "I loved the friendliness and the kind gesture of freebies really made the day for the kids with the sweets and popcorn."
Another attendee, Kerry, said staff had thought of everything. "The staff were very friendly and helpful, and the outdoors toilets were brilliant and very accessible," she said. "The blankets given out were the cherry on the cake. Absolutely wonderful show."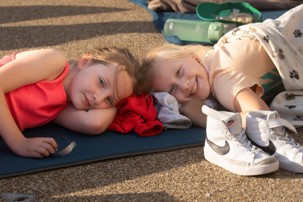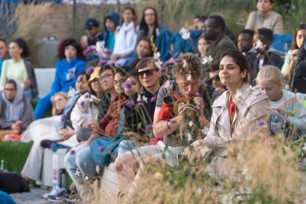 Exclusive fringe event for film buffs
And for the first time ever, Greenford Quay's summer screenings also included a Fringe Cinema experience at the newly launched private cinema room at Lyons Dock. The pet friendly flats to rent feature a range of premium amenities, including a fully-equipped gym, dining room, children's play area, roof terrace and cinema. Kitted out with comfy chairs and a state-of-the-art sound system, it's the perfect place to enjoy a movie night.
These exclusive adult-only screenings gave a select number of lucky ticket holders the ultimate cinema experience, complete with free luxe snack box, bubbles and refreshments. Films ranged from British hits The Full Monty and Lock, Stock & Two Smoking Barrels, to blockbusters Fight Club and Pulp Fiction.
Feedback from the event was very positive with one cinema goer Audrey Wright saying there was a fantastic atmosphere. "I loved the event" she said. "The drink and box of treats were a real bonus."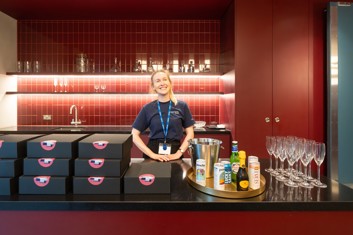 Another attendee, Shiran, said Greenford Quay's events had made a real difference to the local area. "It's just so special and such a good event for the community, Greenford Quay has made the area safer to live and so clean. I'm proud to be living here."
This year's screenings were organised in partnership with sponsors Tide & Vision, a world-leading property developer and contractor, and The Lock at Greenford Quay. Tide & Vision said: "We are excited to see once again the remarkable outdoor spaces in Greenford Quay brought to life by the enjoyment of residents and the wider Ealing community. We continue to take part in shaping this remarkable development alongside Greystar and Ivanhoé Cambridge, creating a thriving, sustainable community."
Alongside Greenford Quay's studios, one, two and three-bedroom premium rental apartments in West London, The Lock offers a selection of apartments available for sale. Telford Homes, said: "The team at The Lock are proud to work in partnership with Greystar to create a destination that brings people together. The Summer Screenings provide the perfect summer experience, bringing together Greenford Quay residents, the local community and beyond to enjoy classic films, food and drinks!"
To find out more about Greenford Quay's unique West London community and explore one of our newest rental apartments, book a viewing today.
Apply for a Greenford Quay Community Grant with Spacehive
Spacehive is the home of community fundraising. Their mission is to make it easy for people to improve their local area. Through their intuitive crowdfunding platform and successful funding programmes they have helped crowdfund over 2,000 ideas and raised nearly £30 million to support local projects.
This year Greenford Quay partnered with Spacehive, in an exciting new initiative to fund locally led projects in the Greenford area that create a vibrant and engaged neighbourhood for its residents and the wider community. 
Aligning with the Spring funding round of Ealing Council's Ealing Together crowd funding programme which began in March, this partnership will feature a bespoke programme of activity delivered by Spacehive. 
Spacehive will reach into the community to find a range of important locally-led projects for crowdfunding that can secure funding from the the £14,500 Greenford Quay Fund, alongside other local funders including the Council (who have a £50k fund on Spacehive) as well as individuals. 
So far we have had a fantastic response from the community and shall award funds by the end of the year. This funding round closes at the end of November, to check your eligibility and submit your application please visit the Spacehive website. 
Visit the website here